Read Patients Chiropractic Journeys with Dr. Paige
What They Have to Say…
Making the right health care decision can be difficult when it comes to finding someone for your wellness team. Here you can review a selection of Dr. Paige's patient testimonials below. Please email us or contact the office if you have any questions! We look forward to meeting you!
In Health, Dr. Paige
---
Wonderful
Dr. Paige was wonderful with my dog. She listened to what was going on with her, carefully and gently examined her, and did adjustments and laser treatment. The difference in my dog was apparent to me when we got home – she was moving her neck so much easier, I hadn't realized her mobility was so limited. Very happy that Dr. Paige was able to help my girl!
˜ Wilma (Jennifer) S.
---
Dr. Paige is Super Knowledgeable
Dr. Paige is super knowledgeable and explained everything as she was adjusting our senior pup, Taz. We were definitely in great hands. Taz is not one to sit still, but with Dr. Paige he was comfortable and patient. He had his tail up at the end of our session – couldn't have asked for a better experience. I look forward to our next visit!
˜ Taz (Patrycia) P.
---
Dr. Paige is Incredible With Dogs
Dr. Paige is incredible with dogs. She immediately sat down on the ground and built rapport with Vera, our 2-year-old Pitbull Puppy for her Hip Dysplasia related chiropractor. Dr. Paige was great going above and beyond to be present and answer all my questions. I appreciated her honesty and openness. Even though we're unsure if the chiropractor's work will help her limp, we definitely want to work with Dr. Paige again because she is awesome.
˜ Vera (Kyle) E.
---
Excellent
Dr. Page and the entire staff at Paws of Pleasanton were excellent. She was able to answer any and all of my questions. She worked at the pace of my dog and did not rush the process, regardless of the time slot we were given. She explained to me areas where she felt the tension and even showed me first-hand. My dog was completely relaxed the entire time and had the best vet experience she's ever had. I am so glad I made the 2-hour drive to see them. My 8-year-old Boston Terrier has been suffering from muscle spasms. I wanted to explore other options to treat her before considering long-term medication or invasive procedures. I started to look into chiropractors for animals and stumbled upon Dr. Page. Naturally, I was nervous and unsure about how this would be done to animals and how it would make my dog feel. Needless to say, it was the most amazing vet experience my dog and I both had.
˜ Penny (Jeff) T.
---
I'm Back to Being Active
I ended up in Dr. Paige's office with some significant back pain. It was my first time seeing a chiropractor, and I was desperate for some relief. As Dr. Paige worked on my back, we spoke about other issues I had going on. During this time I was suffering from a significant tear in my plantar tendon and was feeling a bit hopeless as I was not able to walk well and my PT did not seem to help. Dr. Paige said she could help with the foot issues. I was skeptical as my podiatrist kept telling me I had to "be patient" with my healing. At two months in, I was so tired of struggling to walk, not being able to play softball with my team, and gaining weight from my inability to be active. So at this point I said let's try it. I am so glad I did!
After the first session, I felt great! The next day people at work commented that I seemed to be walking better. After a few sessions I started running again! I started to play Fall ball with my team, and each week I could feel my strength returning as well as my confidence to do more. I'm still going through some sessions to be at 100%, but I'm back to being active, I am walking better, and others can see the improvement as well! I am so glad I landed in Dr. Paige's office! I also can't say enough about how welcoming the office is!
˜ Jennifer D.
---
Feeling Much Better
Toby was feeling much better after his session with Dr. Paige. It did help that the appointment was held in an exam room versus outside (circumstances beyond Toby's original chiropractor's control) so it was quiet for Toby–he wasn't stressed, tense and worried. We are looking forward to our next session and partnering with Dr. Paige to help improve Toby's quality of life.
˜ Toby (Carolyn) M.
---
Everyone Was Great
Everyone was great! Dr. Paige made a huge difference in our dog's quality of life. When we brought him in he could barely walk let alone stand on his own. Within a few days after his first adjustment we saw a huge turn around. He's almost back to normal. He's walking again and looks like life was put back into him! We are VERY impressed and thankful!
˜ Jax (Danielle) L.
---
I'm so Glad I Came to the Right Office
I'm so glad I got to meet Dylan who is a refreshing welcoming committee and always on his A-game! Dr. Paige, what VooDoo magic did you do? I haven't felt this relieved and fluid in my body in years!!! I'm soo glad I came to the right office and found you both! I can't wait to see my improvements and have a wayy better quality of life and to be able to live my life to the fullest extent again. Thank you soo much for working on my back and neck soo extensively it's helped me soo much i soo many ways! Thank you, thank you thank you!!
˜ Tisha P.
---
Highly Recommend
During our first consult, Dr. Paige showed lots of compassion, kindness, and patience with my 13-year-old big kiddo, Simba (who was anxious as he hates going to the Vet's office. She gave my husband and I the opportunity to ask questions about anything we were unsure about. I would highly recommend Dr. Paige to those seeking alternative or holistic treatment for their fur babies!
˜ Carina A.
---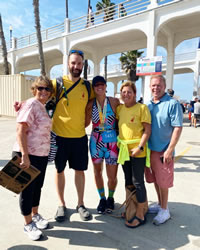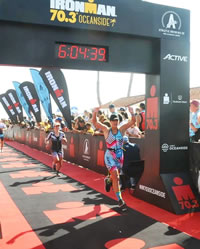 Excruciating Knee Pain
Courtney came in because she had excruciating knee pain 3 weeks prior to her half Ironman. She was unable to run 6 miles not even half of what would be expected of her on the run course of her event. Between adjusting, Active Release Technique and strengthening exercises – she easily completed her event!
˜ Courtney
---
Dr. Paige made My Dog Feel Calm
Dr. Paige made my dog feel calm and he easily accepted treatment. She explained everything she was doing so I felt comfortable with the treatment being provided. To start the appointment she took the time to get to know my dog's health concerns. The whole appointment was better than expected.
˜ Hurley & Alexis
---
Our Dog Seemed Very Happy After Treatment
We are very pleased with how Dr. Paige interacted with our dog during her first chiropractic adjustment. Dr. Paige thoroughly explained her findings during the exam and what treatment would help. Our dog seemed very happy after her treatment and we're happy we get to help her heal with exercises.
˜ Debra
---
The Care That Helps Me Be Better
I am a 60-year-old woman who ran my first 5k in 2013. I was hooked from the word go. Since that first race, I have run a little under 60 races including 5 full marathons and 2 half Ironman. During these years, I have had several injuries, from stress fractures to my most recent – two severed hamstring tendons. Unfortunately, my primary doctors had a hard time diagnosing my actual injury and an even harder time recommending treatment that would lead to recovery. They wanted me to stop running and assessed me for hip replacement (I didn't need it), and even suggested that some parts were worn out.
Dr. Paige has helped me understand my health and get back to doing what I love. She first assessed my health – physical, mental and, very importantly, nutritional. She recommended changes in diet that are tailored to my personal needs and performs treatments that support my personal health. She also said my parts were better than new ones. I believe that she cares about my needs and provides me with the care that helps me be better – the proof is evident every day.
A few weeks ago I ran my first trail run and took 3rd place in my age group.
My name is Ginger and I am an athlete!
Thank you Doctor Paige.
˜ Ginger
---
Keeping runners doing what they love…running!
---
Ginger Improved and I Am Very Grateful
Dr. Paige is a caring chiropractor. My little 13 year old dachshund, Ginger, was seen by Dr. Paige. Ginger was having problem with her back legs. After her first adjustment we noticed an improvement. Ginger improved and I am very grateful for Dr. Paige's help. I always appreciated that she first made Ginger feel comfortable before she did the adjustment. Her kindness, love for animals, and doggie treats were a big hit with Ginger and me.
˜ Cheryl D.
---
My Dog Is Relaxed And Feel Better
So thankful to have met Dr. Paige. My dog (dachshund) was dragging her back legs all of a sudden and could not control her bladder or bowels. After seeing the vet that Dr. Paige works with for clearance of treatment, we had our first adjustment in conjunction with treatment for her sudden spinal infection and UTI. Within two chiropractic adjustments the first week, my dog was using her feet to get in and out of her kennel. Within 2 weeks she was starting to use her feet more and walking a little. As her infection healed and with chiropractic treatments spaced out, we saw great improvement. Without the chiropractic treatments I do not think she would have gained mobility nor would her medication have been as quick to work on her spine. Today my dog runs, jumps, and goes on walks. You would have never known we were in a place of euthanasia or treatment for a spinal problem which we could not afford to operate on. I am thankful to Dr. Paige and the clinic she works with. It has been almost a year since the incident occurred and we see Dr. Paige every 2 months for a tune up. Afterward my dog is relaxed and truly does feel better. I see it in her walk and disposition. I cannot recommend Dr. Paige enough for the treatment of your animals. She is a wonderful human being born to do this type of work. Give it a chance, your pets will thank you.
˜ Holly B.
---
I Was Impressed
I was impressed with Dr. Paige's expertise. She spent time examining my horse and I did not feel like she was rushing her time with me. I appreciated her sending a report to me and my vet regarding what she found for my horse. She was very thorough.
˜ Marty F.
---
New Dog!
I was very happy with the results of our visit with Dr. Jessica Paige. Our dog had thrown her back out and was yelping when she turned her head the wrong way. She wasn't able to play with other dogs or do regular activities like hikes or walks. After our dog's treatment with Dr. Paige she was a new dog! I don't know what we would have done if we hadn't found her. She is very good with animals and makes them feel at ease. I highly recommend Dr. Paige and look forward to future wellness checkups.
˜ Karen L.
---
Knowledgeable, Professional and Personable
Dr. Jessica is awesome. She is an active listener that takes the time to get to know you and bond with your furry one. She offers suggestions along with offering you options and suggestions. I highly recommend her if you're looking for a practitioner that's knowledgeable, professional and personable. Dr. Jessica the one to see.
˜ Whinde
---
Finally Provided Improvement
I have had some near-death health issues recently and have not been able to fully recover back to my normal activity level, nor having the full use of my left hand. Traditional medical practices were not providing improvement. Dr. Paige has provided that improvement. Shortly after we began working together, I had major tingling in my hand. I panicked thinking that something had gone wrong. Dr. Paige could only laugh – I was actually having feeling in my hand, something that I had not felt in quite some time!
I have more freedom of movement, have more feeling and use of my left arm and hand, and I am building my strength.
I was referred to Dr. Paige by my dogs' veterinarian to help my aging pets. At one of the sessions, I started asking questions about my medical issues. I found that I was in need of a partner to improve my health and keep it at the optimum. Dr. Paige has been that partner.
˜ Sharon
---
Keeping Me On The Move
I met Dr Paige on the pickleball court. As I am a senior (71) player who plays too much pickleball my body needs help often. Jessica has been able to keep me playing with ART treatments and has just helped me with my knee replacement surgery come back. I know that she wants me to keep on the move so that she can run me around on the courts.
Thanks for the magic touch!
˜ Deana
---
Excellent Doctoring
Wow, Dr. Paige was fabulous. Because of my physical limitations, she had to adjust me sitting up, and still, it was the most gentle adjustment I have ever had, very effective. She listens well and…….. the first visit and I am truly impressed, especially with her skills of tailoring the work and adjustment to my needs. Excellent doctoring services and I am looking forward to continuing to be ministered by her.
˜Sandy D.
---
Appreciates Active Recovery Methods
About a month ago, I came into Dr. Paige's office with hip flexor and knee pain on my right side. I had a heavy training schedule with running my first marathon and 50k within a month of each other. I saw Dr. Paige speak at a local event and thought that she would be a great fit for helping me recover. I've been pleased with the program that she has me on and her thoroughness during each session. We've been working on strength training and slowly adding back in the miles. I like that Dr. Paige comes from an athletic point of view and is a believer of active recovery methods. As a runner, I appreciate that she encourages me to develop my strength while recovering.
˜Jason
---
Understands Athletes and How to Treat Them
My name is Dean Askanas and I've been training and competing in Karate for 43 years. Also in that time I've competed extensively in boxing and weightlifting. As a result of the training and competing I've accumulated quite a few aches and pains. A few years ago I started getting stiffness in my hips and shoulders. I heard about a treatment called Active Release Therapy. I did some research and came across Dr. Jessica Paige's name. I started seeing her for treatment on a weekly basis and my shoulder and hip pain have almost disappeared as a result of her treatment. Recently I've developed osteoarthritis in both knees. Again I started seeing Dr. Jessica Paige for Active Release Therapy in my knees. I'm glad to say that as a result of beginning treatment with her again, a lot of my knee stiffness is beginning to subside. Dr. Jessica is an athlete herself and she understands what athletes go through and how to help them. She gets my very strong recommendation for helping people with muscle and joint pain.
˜Dean A
---
I Couldn't Be Happier
There's no better chiropractor than Dr. Jessica! I began seeing her 8 years ago and would not have survived my back and kidney pain without her knowledge and compassion. The care and concern she provides to her patents is exceptional and she continually strives for ways to improve upon our well-being. The new low-level laser she recently added has helped lighten the dark pigmented skin on my lower calves and I couldn't be happier. I am fortunate to have met such an intelligent doctor and have her be a part of my wellness team!
˜Joni
---
Very Caring, Compassionate, and Intelligent
I have been with Dr. Jessica for 3 years now and she has done so much more for me than any medical professional ever has. She TRULY cares about my health and well being. She has tested and brought to light to food allergies that cause me to not feel my best, balanced my nutrients, clears my congestion issues and adjusts me in many ways. I want to share my most recent medical issue and the miraculous treatment Dr. Jessica gave to me. I was suffering with a very odd pain that was literally taking my breath away. It was a stabbing pain under my left shoulder blade about mid-way down my back. I emailed her and she got me in that day. Somehow, I had managed to get a rib out of place and she pretty much knew that right away. I begged her to help me, I was in so much pain that a simple task of twisting to just wipe my bum was such a challenge and breathing was painful as well. She first used her Erchonia low level laser to bring down some of the inflammation, then she adjusted with her activator, did some ART and I felt the release right away. (I hear it too) I was so relieved after that first visit it, was amazing. At my next appointment I mentioned that I felt better but had a little residual pain in the area, so she lasered me again and I was 100% free of pain right then. Seriously 100% no pain at all. No words can express the gratitude I have for such a caring, compassionate, and intelligent doctor, but what I can say is that whether I have a stuffy nose, or a rib out of place, Dr. Jessica Paige is my first call, and she is all I ever need. With all my heart, I thank you Dr. Paige for making me a better person in so many ways. ˜Kricket
---